TVS APACHE CLUTCH PLATE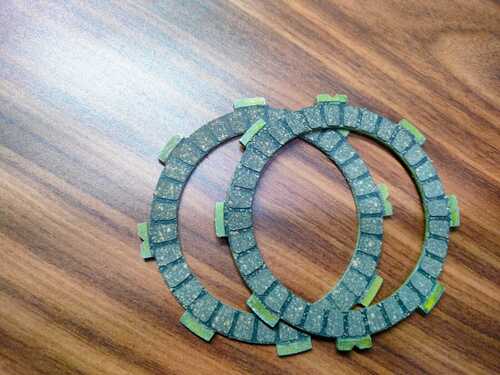 TVS APACHE CLUTCH PLATE
Product Description
A clutch plate, also known as a friction disc, is a critical component of a manual transmission system in automotive vehicles. It is located between the engine and the transmission and is responsible for transferring power from the engine to the transmission, allowing for smooth gear changes and engagement. The clutch plate consists of a metal plate with friction material attached to both sides, providing the necessary grip and friction for the clutch operation.
FAQ (Frequently Asked Questions):
Q: How does a clutch plate work?
A: When the clutch pedal is pressed, it disengages the clutch plate from the flywheel, interrupting the power transfer between the engine and the transmission. Releasing the clutch pedal brings the clutch plate back into contact with the flywheel, allowing power to be transmitted from the engine to the transmission and wheels.
Q: What is a clutch plate made of?
A: Clutch plates are typically made of a combination of metal and friction material. The metal plate provides the structural integrity and stability, while the friction material, often made of composite materials or organic compounds, offers the necessary grip and friction for smooth clutch engagement.
Q: How often should clutch plates be replaced?
A: The lifespan of a clutch plate can vary depending on driving conditions, driving style, and the quality of the clutch plate. However, as a wear item, clutch plates eventually wear down due to friction and will need to be replaced. Signs of a worn-out clutch plate may include slipping, difficulty shifting gears, or a burning smell during clutch engagement.
Q: Can clutch plates be replaced by the vehicle owner?
A: Replacing clutch plates requires specialized knowledge and tools, and it is generally recommended to have the clutch replacement performed by a qualified automotive technician. Proper installation, adjustment, and alignment of the clutch plate are critical for optimal clutch performance and longevity.